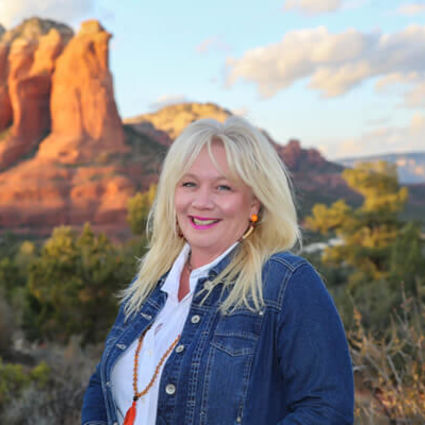 Michelle Grimm
Chief Enthusiasm Officer
Meet Michelle
Michelle ,sometimes known as
"Little Miss Sunshine," is a longtime Sedona resident and former
Realtor who hails from Decatur, IL. Michelle serves as the team's Business
Manager, CFO, Social Media guru, and Roy's personal handler. In other
words, she's The Boss. Locally, Michelle is known for her vibrant
personality and as Sedona's "Dancing Queen." She's often seen out among the red rocks with
her friends dancing to "Uptown Funk" or… Roy and Michelle met in the spring of
2009, immediately recognized each other as soul-mates, and were married in December.
They've been on honeymoon since.